The first mesenchymal stem cell transplantation is approved as routine treatment at Vietnam
Knee osteoarthritis (OA) is the most popular orthopedic degenerative disease in Vietnam. At the present, OA is treated by some drugs to reduce their symptoms but can not regenerate the knee cartilage. Stem cell therapy is the one most promising therapy for cartilage regeneration.

In this strategy, Stem Cell Institute (SCI) has developed the autologous adipose stem cell therapy for knee osteoarthritis since 2007. The product was developed from this therapy is 2 kits: ADSC Extraction Kit for adipose stem cell extraction; and New PRP Pro Kit for Platelet rich plasma preparation.

SCI collaborated with Geneworld Ltd. (Saigon Hightech Park, Ho Chi Minh city, Vietnam) to produce these commercial products.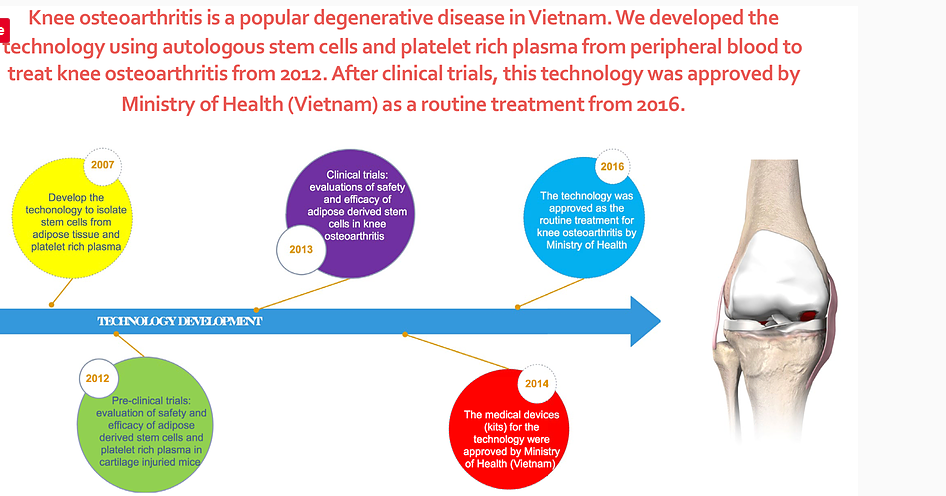 The first clinical trial using this therapy to treat knee osteoarthritis was performed at Van Hanh Hospital and 115 Hospital in 2013. The results showed that adipose derived stem cells in combination with PRP gave the excellent improvements in symptoms and cartilage regeneration.

In 2016, this therapy was approved by Ministry of Health as the routine treatment for knee osteoarthritis. And it becomes the first approved mesenchymal stem cell transplantation at Vietnam as a routine treatment.
Source: https://www.ncbi.nlm.nih.gov/pmc/articles/PMC5442736/