The first ever VNU-HCM developed the stem cells based drugs for knee osteoarthritis in Viet Nam
Vietnam – Knee osteoarthritis is one of the most common diseases, and it affects 12% of the population around the world. Although the disease is chronic, it significantly reduces the patient's quality of life. At present, stem cell therapy is considered to be an effective approach for treating this condition. Mesenchymal stem cells (MSCs) show the most potential for stem cell therapy of osteoarthritis. In fact, MSCs can differentiate into certain mesodermal tissues such as cartilage and bone. However, mesenchymal stem cell transplantation is the expensive treatment, recent years, off-the-shelf stem cell technology is produced to produce stem cells as drugs that can be widely used in patients. The first technology is introduced in Canada and Korea in 2012. To date, there are some countries owned this technology included Canada, USA, Korea, Japan, Australia. 

The first ever the key laboratory of stem cell research and application (SCL), University of Science, Vietnam National University Ho Chi Minh city successfully developed this technology to produce the produce "Cartilatist" that used in the treatment of knee osteoarthritis. The first idea about Cartilatist was suggested in 2009 by Dr. Pham at SCL. However, this technology has just finalized at Stem Cell Institute (SCI) (VNU-HCM University of Science) when the last technology about cryopreservation without cryoprotective agents was successfully studied.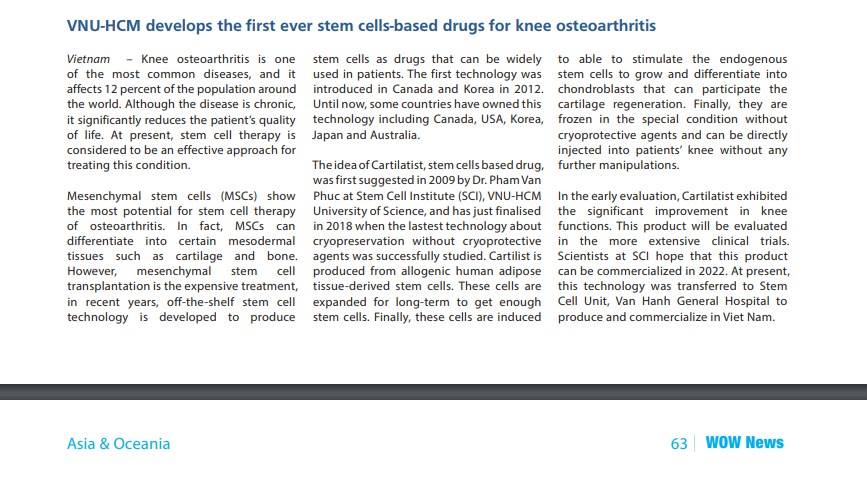 Cartilist is stem cells based drugs that produced from allogenic human adipose tissue-derived stem cells. These cells were expanded for long-term to get enough the stem cells. Finally, these cells were induced to able to stimulate the endogenous stem cells to grow and differentiate into chondroblasts that can participate the cartilage regeneration. Finally, they were frozen in the particular condition without cryoprotective agents and can be directly injected into patients' knee without any further manipulations.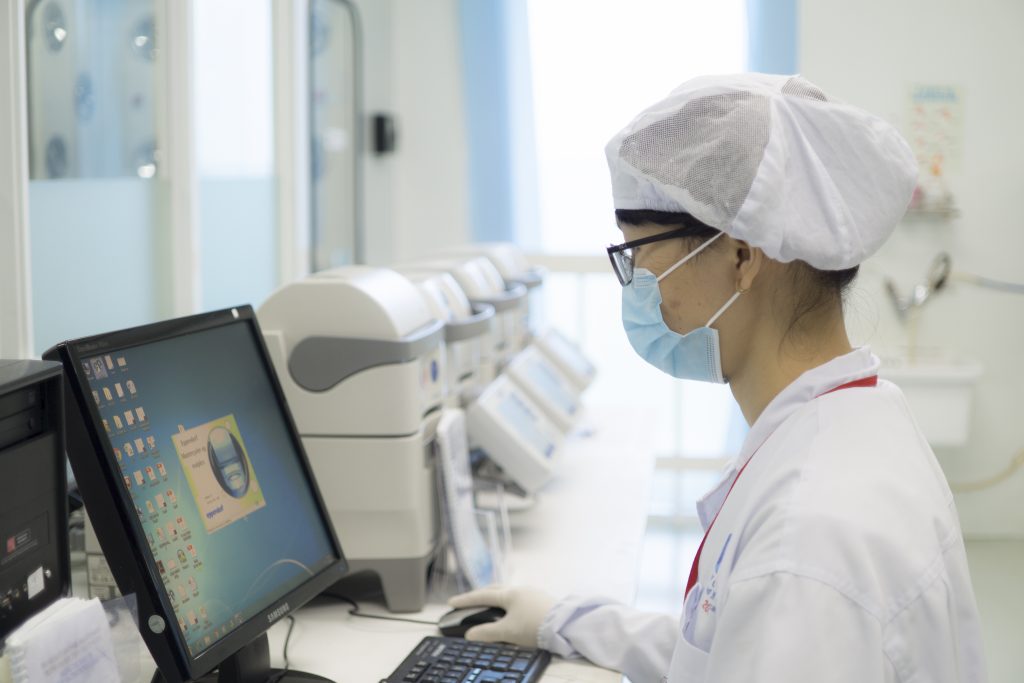 In the early evaluation, Cartilatist exhibited the significant improvement in knee functions. This product will be evaluated in the more extensive clinical trials. Scientists at SCI hope that this product can be commercialized in 2022. At present, this technology was transferred to Stem Cell Unit, Van Hanh General Hospital to produce and commercialize in Viet Nam. 

Source: QS WOWNews