MSC EZ Cult
₫3,500,000.00 – ₫15,500,000.00
MSC EZ Cult is specialized medium for umbilical cord blood derived mesenchymal stem cell isolation.
Description
MSCEZCult is a specialized medium for umbilical cord blood or bone marrow-derived mesenchymal stem cell expansion.

Different from MSCEZCult Primary, MSCEZCult is not added by GelFix reagent.

MSCEZCult is a serum-free medium. Therefore you do not use trypsin/EDTA during the subculturing process. Deattachment Reagent is recommended instead of trypsin/EDTA.

The medium is added L-glutamine, phenol red, without antibiotic-mycotic, without animal serum. This product contains GMP grade human serum albumin, epidermal growth factor, basic fibroblast growth factors.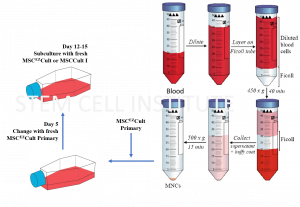 *GelFix: the MSC EZ Cult medium is gelated after incubated at 370C for 24hrs. The cells need 4-8 hrs to attach on flask surface. After that, gel formation will fix the cells in the flask.
You may also like…
₫

2,700,000.00 –

₫

12,500,000.00