MSC EZ Cult is the novel technology for umbilical cord blood derived mesenchymal stem cell isolation.
Umbilical cord blood (UCB) is a rich source of stem cells; nonetheless, isolation of mesenchymal stem cells (MSCs) from UCB presents technical challenges. Using the novel technology (GelFix*) we can help you isolate MSCs from UCBs easily by few steps.
Firstly, Mononuclear cells (MNCs) should be enriched from umbilical cord blood using MNC Extraction Kit or other commercial kit.
MNCs then are washed twice with Washing Buffer or Phosphate buffer saline before MNCs pellet is re-suspended in MSC EZ Cult Primary.
The cell suspension is plated in the T-75 flask, and incubated in the 5% CO2, 370C for 5 days. After 5 days, the medium is removed and added 10 mL of fresh MSC EZ Cult Primary to T-75 flask. After 5 days, the colonies of MSCs can be observed using the inverted miscroscope. After 12-15 days of incubation, the MSCs can be subcultured and expanded in MSC EZ Cult or MSCCult I.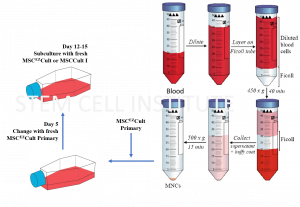 *GelFix: the MSC EZ Cult medium is gelated after incubated at 370C for 24hrs. The cells need 4-8 hrs to attach on flask surface. After that, gel formation will fix the cells in the flask.